The NHL's Rookie of the Year award, the Calder Memorial Trophy, is hotly contested by the league's rising stars and gives fans a glimpse of the future torchbearers of the sport. This season, two wingers have pushed to the front of the pack, the Minnesota Wild's Kirill Kaprizov and the Dallas Stars' Jason Robertson.
Both Kaprizov and Robertson have exceeded expectations and have provided a welcome boost to their respective team's offence for different reasons, but the unique context surrounding their emergence has initiated spirited debate over which player should be rewarded with hardware at season's end.
The three main frontiers of this argument have been what each player's success means for the trajectory of their franchise, intense scrutiny over their isolated individual contributions, and the impact that the quality of their teammates has had on their results.
As a qualifier, both players should be commended for seamlessly stepping into major roles as their teams' primary facilitators of offence and it truly is a shame that only one can be immortalized in the league's history.
However, that sort of wishy-washy indecisiveness doesn't make for good content so time to spit out some hot takes. Fun!
Without further ado, let's dive in.
The Narrative
Minnesotans have been eagerly awaiting Kaprizov's arrival in North America since he was drafted by the team all the way back in 2015. After dominating the KHL in the proceeding years, a league that is notoriously reluctant to give young players significant ice time.
After years of contract negotiation backdropped by fears that he would never make the plane ride across the Atlantic, Kaprizov finally landed with enormous hype around his arrival generated by numerous eye-popping YouTube highlights and a large collection of accolades while playing against grown men.
His age at the beginning of his rookie season has been a particularly divisive detail in this debate seeing as most high-profile NHL rookies usually enter the league at the age of 18 or 19, and generally can't claim multiple years of professional experience before making their debut.
His situation almost exactly mirrors that of countrymen Artemi Panarin who was crowned the Rookie of the Year as a 24-year-old following a strong showing in the KHL culminating with being named an All-Star in his final season. Can't wait for the next Russian newcomer in his mid-20s to take the league by storm and have this debate once again!
However, since the criteria for the Calder Trophy currently indicates that Kaprizov is eligible, the fact that he should be planning for retirement is a moot point, and will not be held against him for the purposes of this article.
In terms of his impact in a Wild sweater this season, Kaprizov has almost singlehandedly vaulted the perpetually middle-of-the road franchise (1 division title since their inception in 2000) into being believable contenders, one that has historically succeeded due to their sound defensive structure rather than outgunning opponents.
Not to completely dismiss the franchise's all-time goal leader in the just as exciting Marian Gaborik who still holds the franchise's single season points record (a relatively paltry 83), but no Wild skater has so quickly given the franchise a facelift as Kaprizov with his youthful exuberance and nightly displays of hypnotic skill, and who recently broke Gaborik's records for goals and points in a season by a Wild rookie.
Minnesota's newfound emphasis on speed, youth, and skill has made them a more dangerous group with the Wild challenging their rivals and league heavyweights in Colorado and Vegas for the West Division title this season while scoring the 10th most goals in the league, something that seemed unfathomable prior to the start of the year.
The rookie is leading Minnesota in points this season, helping to virtually lock in a playoff spot fairly early in the season while rapidly becoming appointment viewing around the league. As a fan of the Colorado Avalanche, this pains me greatly.
Now, enough with the Kaprizov praise. Jason Robertson deserves some shine for an unexpected breakout in his first full NHL season after playing most of last year with Dallas' AHL farm team in Texas.
Keep in mind, Robertson is also slightly older than the traditional rookie at age 21, making a comparison with Kaprizov more justifiable than with a teenager straight out of junior, such as 2020 first overall pick Alexis Lafreniere, who has struggled to acclimate to the NHL as a 19-year-old rookie.
While Kaprizov was immediately thrust into a leading role for the Wild and already leading the team's forwards in average time-on-ice in the first month of the season, Robertson has steadily grown into a prominent member of the Stars' forward group over the course of the season.
From mid-January to mid-February, Robertson was playing just above 12 minutes a night, ranking among the lowest of Dallas forwards. However, significant injuries to Alexander Radulov and Roope Hintz on top of the team's top centre in Tyler Seguin already missing to recover from offseason surgery, forced Dallas to promote Robertson almost out of necessity.
He saw his ice time rise to 14 minutes in the second month of play and eventually jumping to 18 in the past 6 weeks, an increase that coincided with a jump in production as Robertson posted 36 points in the 39 games since February 13th.
The start of Dallas' season was delayed due to a COVID outbreak and the resulting congested schedule that was necessary to catch up to other teams was likely a contributing factor in the aforementioned injuries.
By starting 2 weeks later than the rest of the league, Dallas found themselves facing an uphill battle to make the playoffs before they even played a game.
They've managed to scrap their way into a struggle with the Nashville Predators for the final spot in the Central Division and it likely wouldn't have been possible without Robertson taking his opportunity and running with it.
With the narrative context surrounding the pair and their teams fully explored, why not see how the two have matched up directly this season.
The Individual
While the story associated with a player definitely impacts awards voting and shouldn't be discounted, you have evaluate if the narrative correlates with what is actually happening on the ice.
When we compare Kaprizov and Robertson's seasons in an even-strength context, we can isolate how impactful each player has been while accounting for the discrepancy in the pair's ice time this season.
What is immediately apparent is that at 5-on-5, Robertson has been better than Kaprizov at generating scoring chances for himself and for his teammates.
Robertson almost doubles Kaprizov's rate of primary assists per 60 minutes suggesting that Robertson has had more of a hand in directly creating goals than the Russian, with Kaprizov inflating his overall totals with secondary assists that likely occur in the build-up of scoring chances rather than immediately before a goal.
As for where he ranks across the league, Robertson's per 60 rates for primary assists (3rd) and points (5th) rank extremely highly among skaters with at least 300 minutes at 5-on-5, an outstanding feat for a first-year player when those ranking above him include Nathan MacKinnon and Connor McDavid.
In terms of the teams results with each player on the ice, there is once again a major difference. According to Natural Stat Trick, Dallas controls 55% of all shot attempts and 56% of the expected goal total with Robertson on the ice, compared to Minnesota's 47% in both categories when Kaprizov has hopped on for a shift.
Notably, Robertson's numbers rank first among all rookie skaters with at least 500 minutes at 5-on-5, with Kaprizov near the bottom. As Kaprizov is tasked with driving Minnesota's offence, his focus on scoring understandably results in his possession and scoring chance results lag behind his counterpart.
Despite Robertson's more efficient display at 5-on-5, the power play is still an important part of any game and Kaprizov's excellence on the man-advantage should be noted in the name of fairness.
What is behind these results is that Kaprizov's puck handling and elusive skating are extremely valuable skills when it comes to utilizing the extra ice available on the power play.
These traits also likely account for Kaprizov's propensity to slither away from opponents and draw penalties at a higher rate than Robertson, which is an underrated way to impact a game, especially when your team has the talent required to capitalize on the advantage.
Among skaters with at least 100 minutes on the power play this season, Kaprizov finds himself 14th in goals per 60 and 29th in individual expected goals per 60, demonstrating that he is already comfortable being one of the team's main weapons on the man advantage and in particular, occupying the role of the final shooter of any sequence.
It isn't out of the realm of possibility to expect Kaprizov to hit another level next year and enter the conversation of premier power play marksmen.
Robertson is less of a graceful skater and does not possess the same level of stick handling that Kaprizov has shown, but he succeeds due to his offensive intelligence when it comes to going to getting himself and the puck into high danger areas. Although it can be a cliche to tout someones hockey IQ, Robertson does really possess the ability to succeed when there is less time and space.
Although this section has swung the argument in Robertson's favour, each player's deployment has likely had an impact on their results and should be equally considered.
The Workload and Supporting Cast
As I alluded to earlier, Kaprizov has borne the brunt of the scoring and puck transition workload in Minnesota from the outset, while Robertson has somewhat benefited from being shielded by the forward depth of a team that reached the Stanley Cup Finals last season.
First, Kaprizov has played just over 40 minutes more at even strength than any other Wild forward this season while Robertson has seen his success come mostly on a secondary scoring line facing weaker defensive competition, rather than being the focal point of attack, ranking 6th among Stars' forwards in even strength ice-time.
Again, its important to remember that Robertson only received increased ice time when more established veterans hit the injured list and was thus afforded the chance to gradually get accustomed to NHL play.
According to Corey Sznjader's micro-stat research, Kaprizov ranks highly in offensive zone entries in terms of total volume (26.36 completed entries per 60) and success (74%), success that is driven by his dynamic skating.
For context, Kaprizov results are comparable to those of elite puck transporters in Nik Ehlers, Connor McDavid, and Leon Draisatl. I'm not completely sure, but being in the same tier as former MVPs and scoring leaders is a good sign that you're having a strong opening salvo in the NHL.
Carrying the puck is not a clear strength of Robertson's as his volume and success is almost exactly league average, and Dallas would rather trust winger Denis Gurianov and its smooth-skating defence corps (John Klingberg and especially Miro Heiskanen) to move the puck up the ice.
When looking at how often the pair pressure opposing teams in their own zone to retrieve the puck, Kaprizov has driven Minnesota's forechecking efforts in being tops on the team with just over 5 recovered dump-ins per 60 minutes. He is clearly concentrated on making a difference defensively to complement his offensive impact.
In terms of Robertson's forechecking, he ranks 11th among Stars forwards in puck recoveries and almost 2 full recoveries less (3.2) than Kaprizov's per 60 rate. The difference between the pair could simply be down to their assigned role, but it does suggest that Robertson expends much less energy focusing on defensive responsibilities, which may explain his better shot chance share from the last section.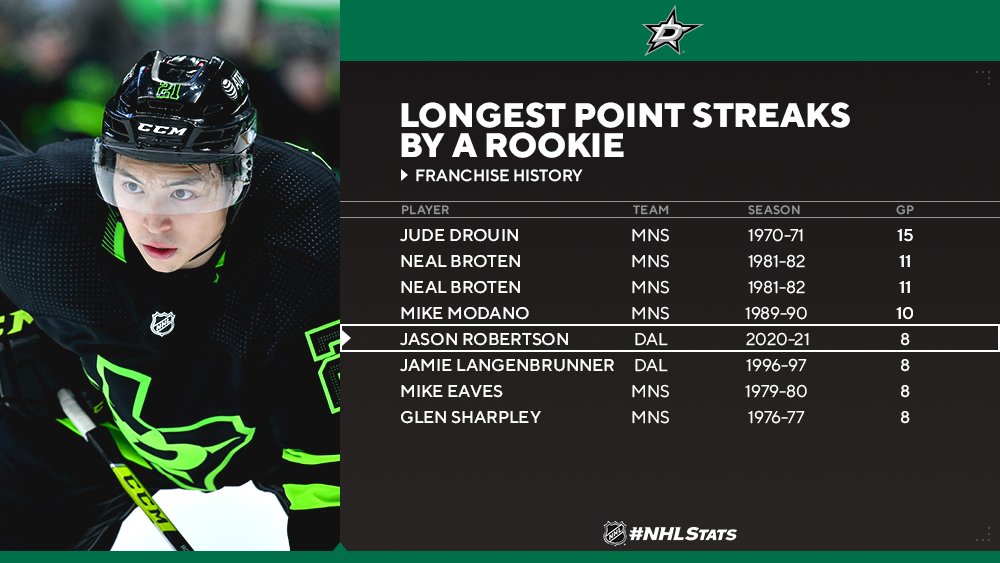 Lastly, line mates can be just integral to a player's success as how they're deployed. Robertson has played the majority of his 5-on-5 minutes with Roope Hintz (350 minutes) and Joe Pavelski (303 minutes). Hintz was a sleeper breakout candidate who has averaged about a point per game this season when healthy and a defensively responsible Pavelski who has also scored at least 30 goals in a season 5 times in his career.
On the other hand, Kaprizov's most common line mates this season have been Victor Rask and Mats Zuccarello (399 minutes each at 5-on-5), solid players in their own right, but by no means world beaters with the two only having having combined to score 60 points in a season one time.
After some further digging, it becomes clear that Robertson has been allowed to focus on generating scoring chances beside better line mates which likely contributes to his more efficient showing at 5-on-5. Although this shouldn't fully discount Robertson's stats, it does help illuminate just how important Kaprizov is to the Wild in all facets of the game, especially when he has less support to fall back on.
The Verdict
If one assumes that a player's performance when the playing field is level should be weighted more heavily than when a team is at a distinct advantage, Robertson has outplayed Kaprizov this season.
However, just because it should technically be easier to produce on the power play, it still does require players to actually have the ability to convert. Kaprizov has a ways to go before he is in the same stratosphere as historically dominant power play scorers such as Alexander Ovechkin, but he's shown preliminary evidence of being a tenacious sniper when given the opportunity.
Additionally, Kaprizov immediately stepped into a primary role for the Wild on both sides of the puck and has held his own against top competition with weaker line mates, something that hasn't been true of Robertson this season.
It should be said that several years of prior professional experience likely made it less of a rocky transition to playing in the NHL although Robertson did have a season in the minors to develop as well.
Minnesota has shown a visible swagger this season and Kaprizov's ability to pounce on any perceived weakness makes them a much more dangerous out come playoff time and it will be interesting to see how he fares when he is thrown repeatedly to the apex predators of the West division over the course of a seven game series. Their success compared to the Stars will likely influence how voters perceive the pairs respective seasons.
The Stars have worked hard to put Robertson in a position to succeed in terms of easier deployment and being paired with stronger line mates but his success shouldn't be discredited in spite of this reality.
Both Robertson and Kaprizov have injected their teams with youthful talent and buoyed their team's performance in a chaotic season but Kaprizov's consistently great performances from the beginning of the season coupled with what his emergence means for the Wild would probably see me vote for "Dolla Dolla Bill Kirill" as the Calder recipient.
Although it appears as though one has had to overcome more obstacles in becoming an impact player, both can reasonably stake a claim to the award and should be recognized for their success this season, regardless of who is eventually crowned the winner.
Statistics courtesy of Corey Sznajder, Hockey Reference, Natural Stat Trick, and NHL.com, and are accurate as of April 30th.
Feature images of Kaprizov and Robertson are taken from @PR_NHL on Twitter.